News & Events
---------------------------------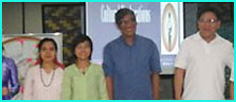 ABC's Summer Greetings!
Visitors
------------------------------

News & Events

Dear Friends,
Summer greetings!
For most of our urban children as well as young people, summer is a special time to take trainings, attend many courses and prepare for the upcoming school by taking endless classes. The impact of such education is questionable. As an active civil society actor, ABC would like to share with you a parable/fable below entitled "Animal School" in order to help the readers revisit the education of our society. Enjoy reading!
ABC Team

--------------------------------------------------------------------------------------------------
ANIMAL SCHOOL

Once upon a time, the animals in the jungle decided to open a school for their children. They called a meeting. Unanimously, they agreed that now-a-days it is a "must" that all the citizens of the forest should lean all things. "We have to follow the example of human beings," they said, "Integral education is a must." A "unique" plan of education was drawn up for all the animals. Every beast, big and small, should learn all the animal trades. The youngsters -without distinction – would be taught flying, running, swimming, climbing trees, jumping, making nests, boring holes, singing, chirping and the rest. All would receive a "complete and integral" formation. On the opening day of the school, you could hear the teacher telling the pupils:
"In school, my dear children, I'll teach you all things. Anyone of you will be able to fly like an eagle, run like deer, sing like a nightingale, climb trees like a monkey. It will be fun!"
After a few days, one could hear the following exchanges between the teacher and a young tortoise: "Come on! run! Faster! Faster! Can't you catch up with the hare?"
"Teacher, I can't! I can't!"
"You, Good for nothing! Come on! Try again! Can't you run for nuts? I see you are lazy, disobedient, uncooperative. I'll fail you!" At last the tortoise failed in the race. He could not make the grade. He become a failure, and so he dropped out from school. Next day, you could hear the teacher yelling at a baby elephant:
"Come here! show me how you have learned to climb this tree! Quick, come on, climb! Why you are not moving, lazy bones? You are useless. You will never learn a thing." Needless to say, the elephant also failed his class and dropped out from school. And so the eagle also was a failure for not learning to swim. And the monkey for not flying. And the horse for not chirping.
At the end of the year, all the animals had dropped out from school. All had become failures! And the school was closed. From then on, life in the forest went on as before. Each animal went practising and perfecting his skill; yet, things were not quite the same because, the school had taught one and all the same lesion: THAT EACH ONE WAS A FAILURE! THAT ALL OF THEM WERE DROP-OUTS. An adaptation of a script of a Spanish Audiovisual
--------------------------------------------------------------------------------------------------
POINTS FOR REFLECTION AND DISCUSSION

1.What are the lessons teachers and educators can draw from the story of the "Animal School"?
2. Is the "ideal" of "integral education" for all, possible? Why? Is it fair to all the pupils? Why?
3. Why are there so many failures in school? How is it that a large numbers of students feel bad about themselves and see themselves as failures?
4. Should education be "subject-centered" or "pupil-centered"? Why?
5. Can you mention some of the wrong assumptions in our present system of education?
6. According to your way of thinking, what should be the goals, objectives and aims of education?
7. Can you point out the difference between "formation" and "information", "schooling" and "education"? Which of these are given priority in our educational institutions? What are the consequences?
8. Should "competitiveness" be the most important tool to motivate our students? Does it help or hinder true education?
9. What should you consider the "ideal" way to educate our children?
10. Is education, as obtains today, meant to impart knowledge or to prepare our students for competitive exams? What are the effects of that lopsided stress?
11. Do our students as a whole study to "learn for life" or to "earn a living"? What are the effects of this attitude?
12. Someone said: "Our educational system forgets to educate the emotional life of the students. We are only interested in training the intellect." Do you agree with the statement? Can you suggest any remedies?
Peter Ribes, Parables and Fables for Modern Man: Vol. 4 (Bombay: St. Pauls, 1994)14-16.