News & Events

Dear Friends,
Summer greetings!
For most of our urban children as well as young people, summer is a special time to take trainings, attend many courses and prepare for the upcoming school by taking endless classes. The impact of such education is questionable. As an active civil society actor, ABC would like to share with you a parable/fable below entitled "Animal School" in order to help the readers revisit the education of our society. Enjoy reading!
ABC Team

--------------------------------------------------------------------------------------------------
Community Development Course in Manila, Summer 2010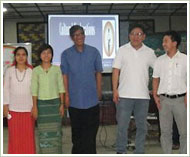 Greetings from the Philippines!
2010 Summer is thrilling for me. I join International Diploma Course for Community Development Workers (IDCCDW) in Asian Social Institute (asinet-online.org), Manila.
Every year, ASI offers this CD course during Summer for social development practitioners, extension managers, trainers or social animators and all those involved in organizing grassroots initiatives at the community level.
The course emphasizes a holistic, integrative participatory approach to Community Development (CD) work toward sustainability.We, the participants come from different countries with different socio-religious and cultural backgrounds. They learn not merely from the course contents and the professors but also from one another and the lived-in field exposure.
This CD course provides us with basic knowledge, attitudes and skills in Community Development as a strategy for social change. It also serves as a venue for the participants to examine and analyze various theoretical frameworks and strategies in working with people, in relation to their present and future involvement.
We, CD course participants, enjoy Filipino culture as well as their cuisine. We have lot of funs, joys and amusement while learning from one another. I make friends with people from different parts of Asia-Pacific region. I testify that this CD course is enlightening, empowering, challenging, transforming and even stimulating. I do recommend that socially-oriented people from Myanmar should join the Asian Social Institute not only for the CD course but also for the other degrees programs available. Ciao!
--------------------------------------------------------------------------------------------------
Rubber Trees Plantation for Reforestation in Chin State, Myanmar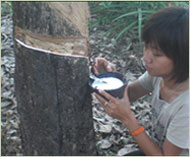 How can we prevent deforestation of Chin State? Or how can we reforest Chin Hill? In other words, how can we make Chin State always 'green' and 'clean'? In order to answer the above questions Agency for Basic Community Development (ABC) team members have proposed "rubber trees planting project" in Chin State.
ABC members are aware of the fact that in Chin Hill, the highest mountain is 10,200 feet and it has 13,907 square miles with 312,932 acres of agricultural farming land. The indigenous people use "slash and burn" method of cultivation which causes deforestation. Practically, it seems impossible to plant rubber trees in Chin Hill. ABC members believe that it is very possible to plant rubber trees in some townships of Chin State despite of its high rocky mountains. For example, some parts of Falam, Tedim, Tonzan, etc., Townships have suitable climate and context with "heavy rainfall and without frost" for rubber plantation. Traditionally, rubbers were mostly planted in Shan, Kachin, Kayin and Mawlamyaing States and the lower parts of Myanmar. Chin Hill has the climatic conditions for rubber trans/plantation. ABC will be the first group to introduce rubber plantation in Chin State. ABC invites collaboration of the interested agencies who are concerned with environmental protection and reforestation of Myanmar.